Over the past decade Luxury Yacht manufacturers are looking more and more to enter the Middle East region. The amount of superyachts sold and owned in that part of the world has steadily increased. Positive contributors, among others, are boat shows like the Dubai International Boat Show. This show is the most important exhibition showcasing luxury yachts and superyachts for sale. Manufacturers from around the world are using this exhibition to showcase, not only their latest yachts, but also latest industry innovations, new material technology and advanced navigation equipment.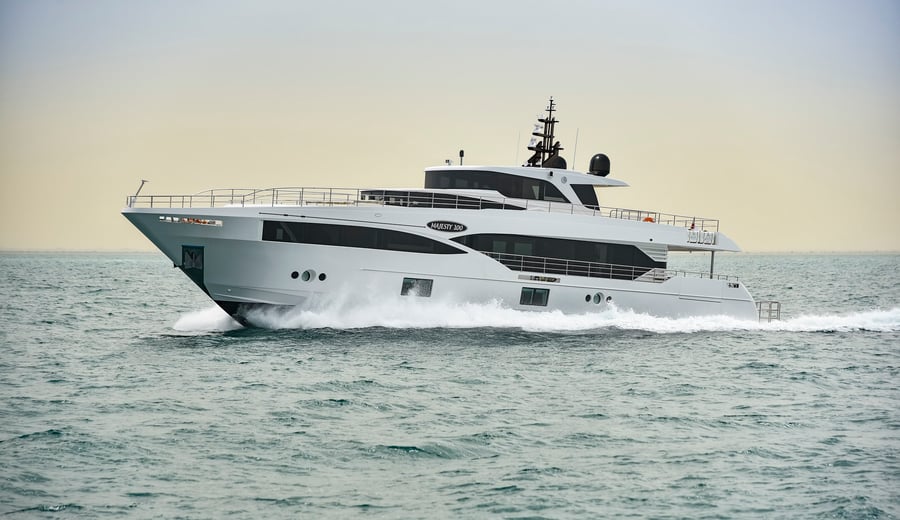 Another positive and very important contributor to the growth not only in fleet but also in interest in yachting and here luxury yachting are Middle Eastern yacht manufacturers. Luxury yachts in Dubai or rather from Dubai or other Emirates like Ajman, where one of the most dominant manufacturer has it's headquarter, are competing with their international rivals at eye level.
Most of these manufacturers started with traditional fishing boats. Initially these boats where not capable of traveling the oceans. But over time and with the increasing demand of their clients these manufacturers developed into well-established and world wide respected yacht manufacturer. Some of these manufacturers have developed dedicated brands. These brands cover the entire spectrum of the segment they are built for. In the Middle Entire you will find builders of fishing boats and family cruisers or sports yachts and cruisers. Others have extended their range and are building luxury yachts and luxury superyachts.
The fact that 200 ft luxury yachts can and will be produced in the Emirates is proof that these yacht manufacturers are not shying away from any competition and the challenge of expanding their limits. Another indicator about their competitiveness is their client base. The aforementioned manufacturer is receiving orders for all their boats, yachts and superyachts from all over the world. The interest in luxury yachts and luxury superyachts especially from Asia, Europe and the United States is steadily increasing. To face the challenges of producing luxury superyachts of 200 ft and above, existing production facilities have to be up-graded and expanded. Know how is either developed on the bases of existing experience or brought in.
Middle Eastern manufacturer of luxury yacht and luxury superyacht are only now starting to explore the full potential of this particular market segment. The production of a 200ft luxury superyacht coming from the Middle East and here Ajman, UAE is only the beginning of a new era in Middle Eastern shipbuilding.